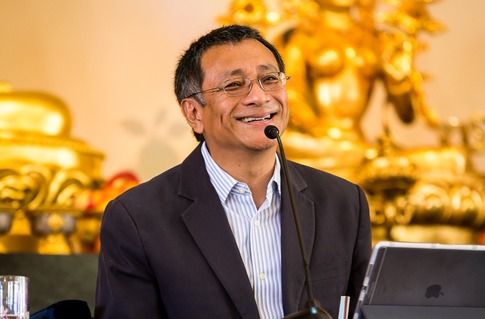 We joyfully announce the third annual Tara Drupchen to be held by the Nalandabodhi International sangha: October 19-21, 2018. The Nalandabodhi sangha, founded and guided by Dzogchen Ponlop Rinpoche, will be engaged in a practice intensive focused on awakening the fearless and compassionate energy that is our mind's true nature, as symbolized by Tara. This practice intensive will be led by our senior Nalandabodhi acharyas and lamas at Nalanda West in Seattle, and will be joined by Nalandabodhi centers around the world engaging in Tara practice at the same time.
Drupchen (Tibetan: སྒྲུབ་ཆེན་ ; literally, "great practice [gathering]" or "great accomplishment [gathering]") is a traditional format for a practice-intensive retreat in the Vajrayana tradition. It provides a strong condition for accumulating merit and is a powerful method for dispelling obstacles and hindrances for ourselves and our dharma activities.
Tara Drupchen will also be held in Hong Kong from 19 Oct to 21 Oct by the Nalandabodhi Asia sangha for which Acharya Jampa has kindly agreed to preside over. Everyone is welcome to join us. (Please refer to below for details)
How to make prayer requests and offerings
You can make an offering and prayer request for those who are ill, recently passed away, for any challenge you or others face, or aspiration you have for the world.
These prayer requests and aspirations will be shared with our Nalandabodhi teachers and sangha participating in the Drupchen, as well as those participating in related Tara Practice at our centers and study groups around the world.
As an act of generosity and auspicious connection, it is a time-honored practice to make a monetary offering to accompany a prayer request. A suggested minimum donation is USD 10/HKD 78/NTD 307/RMB 69
Make an offering by credit card
When donating by credit card you can enter your prayer request on the donation webpage. For bank transfer donations please see below.
Click here to donate by credit card (English)


Make an offering by Paypal
You can also make an offering using Paypal. On the final checkout page please click on the text that says "Prayer request and name of person(s)" to enter your prayer request and name of the person(s) you are requesting prayers for.
Prayer requests should be in the following format:
●     Your name
●     Name(s) for whom you are requesting prayers
●     Type of prayers you are requesting (choose one type for each individual request):
●     ○ Prayers for the recently deceased
●     ○ Prayers for the ill
●     ○ Prayers for success, removal of obstacles, or other situations
●     Your specific prayer request. For example: "For my brother, Joe Smith, to dispel the obstacles that are making it difficult for him to find a new job," or "For my friend, Mary Jones, who passed away on September 4, 2016."
Make an offering by bank transfer
For bank transfer donation please see below
Making offerings to sponsor a Drupchen creates a connection to the practice that enables us to accumulate merit and dispel obstacles, even if we are not able to personally attend.
Your donation will provide the offerings of candles, flowers, and food; make the necessary preparations for the ritual ceremonies; provide offerings to our teachers in gratitude for sharing this practice with all of us; and support the ongoing dharma activities of Dzogchen Ponlop Rinpoche and our Nalandabodhi sangha.
Any donation amount is welcome! As a guideline for giving, this is what your donation supports:
●     An offering of USD 25/HKD 196/NTD 770/RMB 172 provides the equivalent of ritual food offerings for one practice session
●     A donation of USD 108/HKD 848/NTD 3324/RMB 742 provides the equivalent of printing 27 Tara practice booklets
●     A donation of USD 250/HKD 1962/NTD 7965/RMB 1717 provides the equivalent of shrine offerings for one practice session
●     A donation of USD 1250/HKD 9809/NTD 38,472/RMB 8583 supports the equivalent of one full practice session
●     A donation of USD 3000/HKD 23,540/NTD 92,333/RMB 20,600 supports the equivalent of hosting all of our teachers for an entire day
●     A donation of USD 5000/HKD 39,234/NTD 153,888/RMB 34,334 supports the equivalent of one full day of practice sessions
Bank transfer donations
After making a bank transfer donation (see below for account info) please send your receipt to asia.hk@nalandabodhi.org. Please also include any prayer request you would like to make in the email. Prayer requests should be in the following format:
●     Your name
●     Name(s) for whom you are requesting prayers
●     Type of prayers you are requesting (choose one type for each individual request):
●     ○ Prayers for the recently deceased
●     ○ Prayers for the ill
●     ○ Prayers for success, removal of obstacles, or other situations
●     Your specific prayer request. For example: "For my brother, Joe Smith, to dispel the obstacles that are making it difficult for him to find a new job," or "For my friend, Mary Jones, who passed away on September 4, 2016."
NB Asia Bank Information
| | |
| --- | --- |
| Account Holder: | Nalandabodhi Asia Limited. |
| Account No.: | 400-726436-001 |
| Beneficiary Bank: | HSBC Hong Kong |
| Beneficiary Bank Address: | 1 Queen's Road Central, H.K. |
| Beneficiary Bank Code: | 004 |
| SWIFT Address: | HSBCHKHHHKH (for wire transfer) |